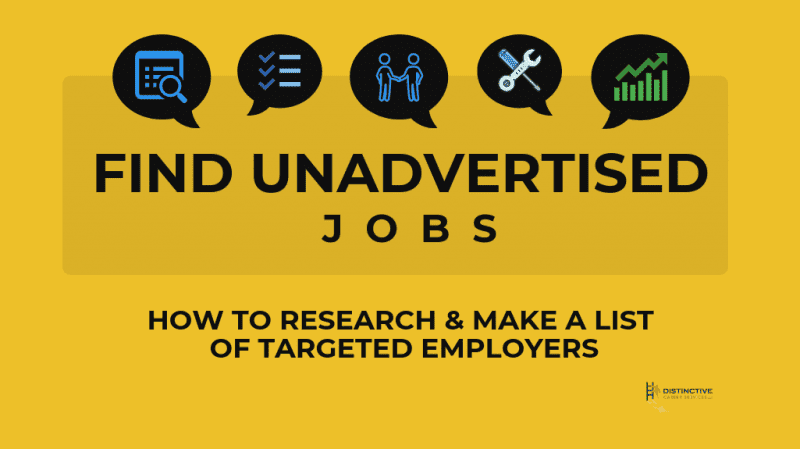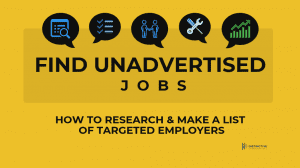 Okay, so it's job search time. It's possible that you're between jobs. You might be looking to change employers. Maybe you're even contemplating changing careers. Perhaps you're excited for the challenge. Or not. Regardless, you know that any serious job search requires planning, time, and work. And a list, of course.
In fact, you can't engage in any meaningful search until you've identified employers for whom you would consider working. So, let's look at how to research and make a list of targeted employers in order to supercharge your job search.
Now, when we say make a list, we mean a list. As in the names and contact information of a variety of employers, not just the most prominent ones in the industry in which you'd like to work. You need a useful, meaningful compilation of companies and/or organizations that both operate in an industry and engage in work that interests you.
You might get lucky and land a new job right away, but don't count on it. In fact, prepare for the opposite. Not only will making this list help you do a better job of organizing your search, it will help you manage your expectations.
So, how does one compile this list we're talking about? We have several suggestions. While our list isn't exhaustive by any means, we hope you'll find it very helpful in getting the information you need as you commence your job search.
Revisit your history. Look at your resume. Your high school and college yearbooks. Now think about all the people from your past (whether it be school or work) with whom you have stayed in touch or with whom you could reconnect without it being too awkward. Yes, we know, the vast majority of these folks, if not all of them, aren't in a position to hire you.
However, most of them are probably working for someone and all of them certainly know people. If they are on LinkedIn, connect with them. Ask them for information about the company for which they work, about competing companies in their industry, about industry resources. Oh, and be sure to ask for permission to use their name if the opportunity to do so arises. '
Take a close look at a map. Google maps is an excellent tool for this. Focus in on the area where you currently live and/or on the areas to which you would consider relocating. Taking commute times into consideration, imagine a circle around this area enclosing the geographic region you will focus on.
Now your task is to find the businesses in your target industry within this circle.If you are using Google Maps you can use the search tool to visually pinpoint relevant companies on the map.
Print media. Yes, you read that correctly. But we're not talking about only looking at the "want ads" in your local newspaper (although you should certainly do that as part of your "leave no stone unturned" strategy).Read the local and business sections of your paper for the latest on what companies in your target area are doing and which ones are growing or otherwise making news.
Add those companies to your list. Read trade journals and magazines that focus on business or the economy to stay abreast of "what's trending" in commerce. After all, if it's trending in an area that interests you, shouldn't you be following it?
LinkedIn. LinkedIn provides many excellent ways to research and find companies to add to your list. Begin by finding the people who work at/have worked at companies you have already identified as targets. Now look at their profiles. Where else have they worked? Learn what you can about those companies and if relevant, add them to your list too.
Regional, state and national publications.
Chamber of Commerce Directories
State Directories of Manufacturers
National Trade & Professional Associations
Ward's Business Directory of Major U.S. Private Companies
Martindale-Hubbell (legal profession)
The Macmillan Directory of Leading Private Companies
Standard and Poor's Register of Corporations, Directors and Executives
National Association of Colleges and Employers
National Employers Association
Employer Associations of America
Online Job Boards and Job Search Services There are many. They include:
College/university placement/career services offices and/or your alumni association. These types of resources provide you with information you can currently use and help you expand your network too, a key component of any list building.
Now make a short list. Rather than just make a list of employers you'd consider working for, research the employers that are worthy of making your list. While it may sound like the same thing, there's a distinction with a difference. While you will ideally want a list of 40-50 "worthy" companies, you may want to even take the time to prioritize these in the order that they interest you.
Once you've got a general idea of what geographical or professional area you'd like to work in, identify the companies that populate those areas (locations or professions or both) and research them rather than simply list them for later contact. How large is the company? What is their company culture like? How healthy are the company financials?
Researching company websites can give you useful information and help you condense the list of potential employers that you'll leverage your network to access and actually contact with the intention of applying for a job.Sure, you can compile a list of hundreds of companies that appear interesting, but are you really going to send resumes and cover letters to all of them or spend countless hours engaging in networking or the online application process favored by an ever-increasing number of employers?
There are other ways to research and make a list of targeted employers in order to supercharge your job search. Remember, though, that a job search requires a lot of work. Any steps you can take to streamline the process will not only make the search more effective, it can lower your frustration level as well (always a bonus!).