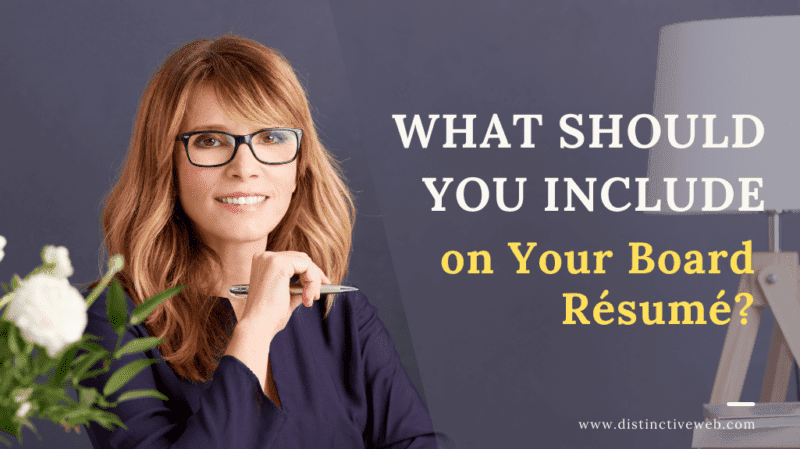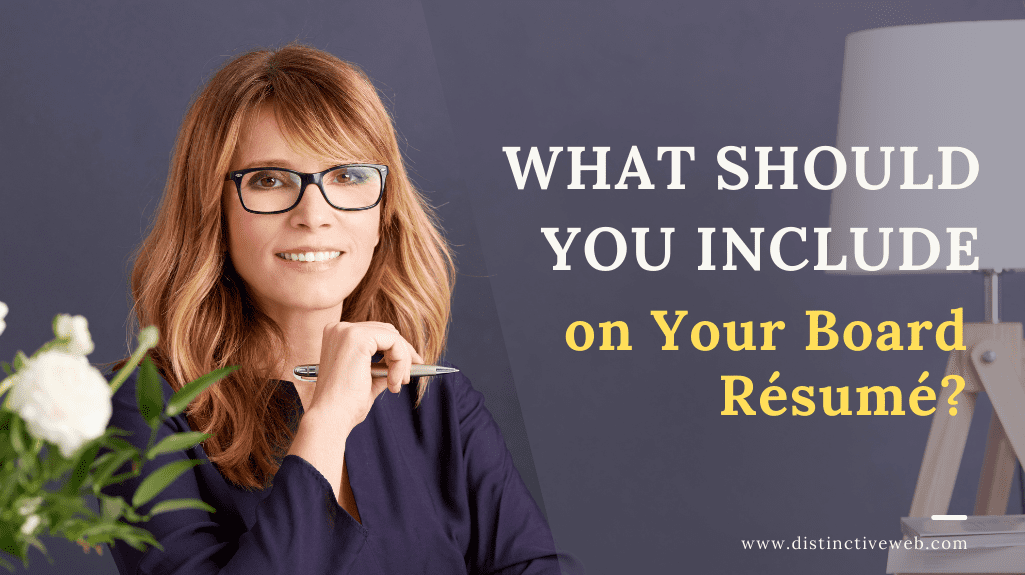 Perhaps more than any other type of resume, questions about how to structure a board resume and what to include on a board resume are the ones that cause the most confusion.
The truth is that a board resume is not a fundamentally different document from any executive resume. The primary differences are in how you focus the resume and the qualifications that you choose to emphasize in a board resume.
Build Your Board Resume Foundation
Before writing even a single word of any modern executive resume there are three key questions you must answer. The same is true of a board resume. Your answers to these three questions will guide you in what to include on your board resume, too.
Question #1: What are you targeting with this board resume?
Your answer to this question needs to be much more specific than simply: a board seat. When making decisions about what to include on your board resume, this includes answering these sub-questions:
What type of board are you targeting? Are you seeking a role on a corporate public board? On a for-profit private board? A nonprofit board? Something else?
For what type and size of company or organization? In other words, are you most interested in board roles for large-cap companies? Mid-cap? Small-cap? Startups? Be as specific as possible.
Which industry or industries are you targeting? For a board resume, this could mean targeting companies that are within the industry of your expertise. But, it could also mean targeting adjacent industries in which your particular industry expertise might contribute fresh insight. Again, be as specific as possible. Your answers will help guide you in deciding what to include on your board resume.
Are you targeting companies that are in a particular lifecycle? In other words, are you targeting startup companies? Distressed companies that need to be turned around? Companies that are in a high growth phase? Companies that are engaged in expansion; either expanding into new markets or expanding into new geographies? Mature companies seeing to streamline and improve profits?
Question #2: What qualifications, knowledge, and abilities are being sought by your intended audience for your board resume?
In other words, with the clear and detailed understanding of your target for the board resume developed through your answers to question #1, put yourself in the shoes of your intended audience for the resume.
What challenges and problems might they be facing?
What goals might they be pursuing?
When they fill the board seat, in what ways are they hoping or expecting that the board member will be able to help them overcome these challenges, solve these problems, or achieve these goals?
What qualifications and experiences will the ideal board member bring to the board table?
Question #3: What is your differentiating pitch as a candidate for the types of board seats that you are targeting?
Landing a board of director position is usually an extremely competitive endeavor, especially on public company boards and to a slightly lesser degree, private company boards. To position yourself as a serious candidate for these seats and in the most competitive way possible, you must be prepared to communicate the unique value you will add as a member of the board.
You have probably already started to formulate an answer to this question from your answers to the first two questions. For example:
Maybe you are going to bring to the board table fresh insight or perspective from your 20 years of leadership experience in the industry representing the market they are expanding into.
Maybe you have extensive international business experience in geographies that the company has an interest in.
Perhaps you have experience reorganizing distressed companies and creating and leading the strategies for their transformation and performance turnaround.
Maybe you have an extensive track record helping emerging companies raise venture capital funding or preparing growing private companies for IPO?
Maybe you bring specialized skills and knowledge in an area you know is a knowledge gap on the board? Or perhaps you have experience that would be immediately transferable and of value on an audit, compensation, risk, nominating, or governance committee?
The possibilities here are endless. If you don't have an answer to this question yet, spend some time in reflection. You will want to showcase this unique value proposition (UVP) prominently in your board resume, and this UVP will also inform your decisions about what to include (or exclude) in your board resume.


Qualifications to Include on Your Board Resume
The content of your board resume—both the executive summary at the top and your experience chronology—should be written to emphasize the qualifications that are highly valued on boards. In some cases you might want to include a "Qualifications Summary" that lists the primary qualifications that you bring to the board table. Like this:


Another similar strategy is to include your board value offerings using action statements, like this:

However, just including a list of qualifications sought by boards is not enough. When writing your board resume, always remember that you should provide examples of accomplishments that show your qualifications in action. This next graphic shows a snippet of a board resume. Yellow highlighting shows board-valued qualifications called out in a success story included in the career chronology of this board candidate.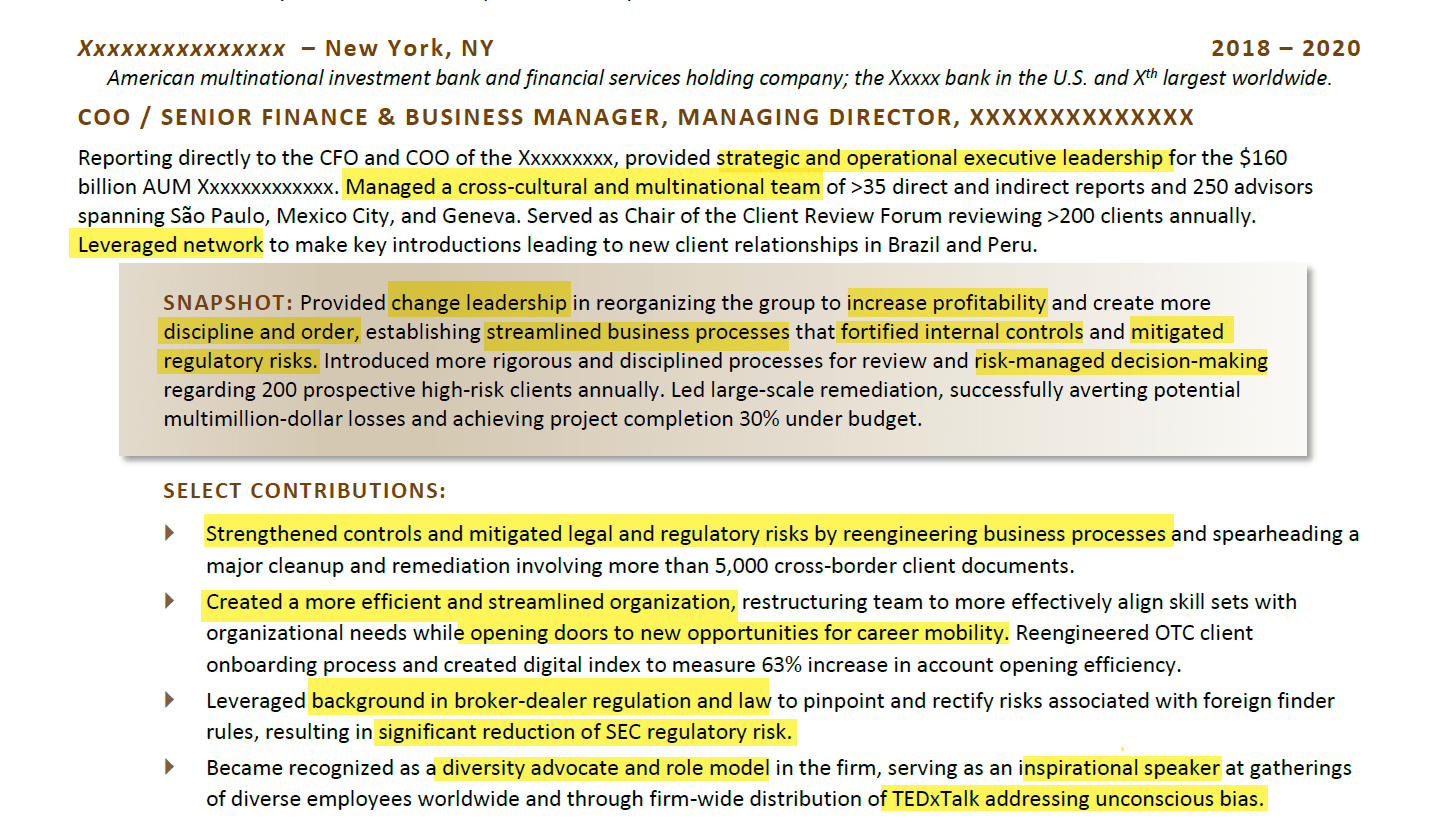 Here is another example from a different board resume. This one illustrates the strategy of "categorizing" each accomplishment statement with the board qualification it represents. This helps to work in even more board qualifications and keyword phrases. The yellow highlighting has been added to show the key qualifications that are being showcased in this board resume.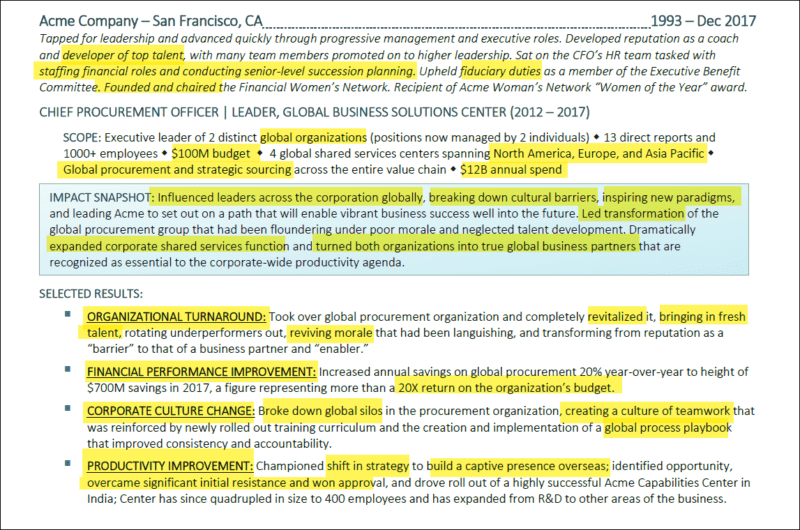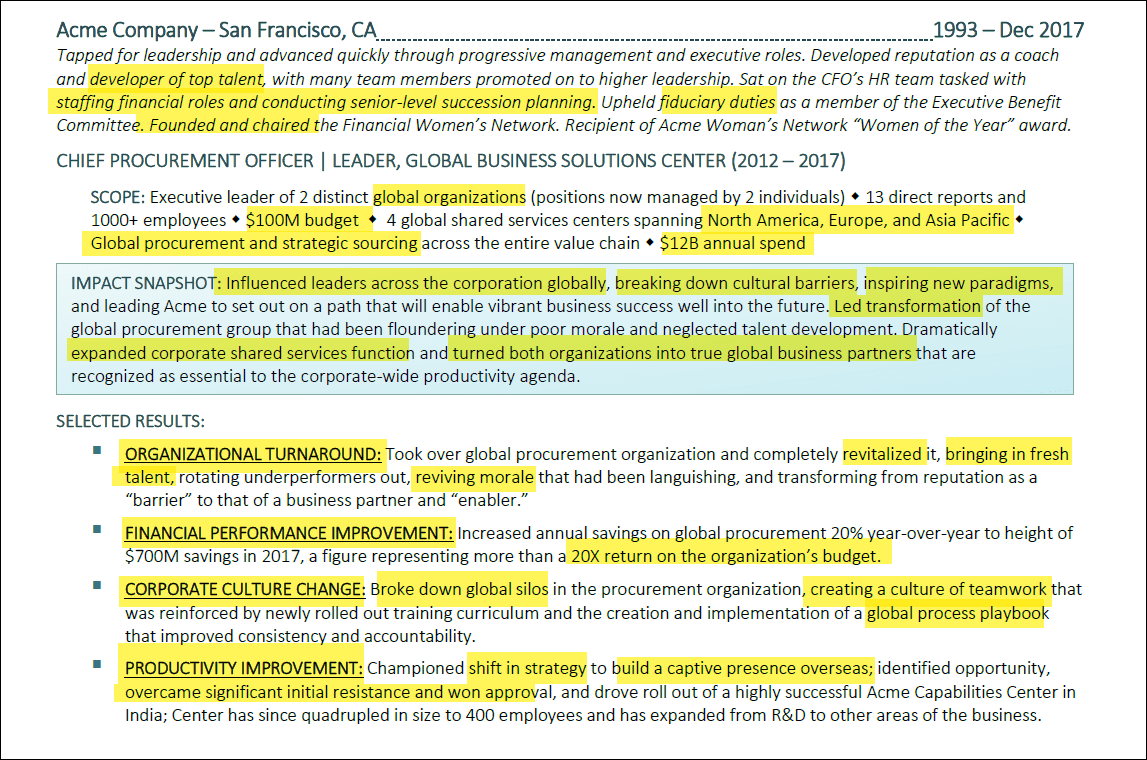 Now that you know how to include qualifications in your board resume, how do you choose which qualifications to include?
While far from a comprehensive list, here are just some of the executive core competencies that you might want to emphasize on your board resume. Of course, no one candidate will have all of these. But, to be competitive, do include those that you do have.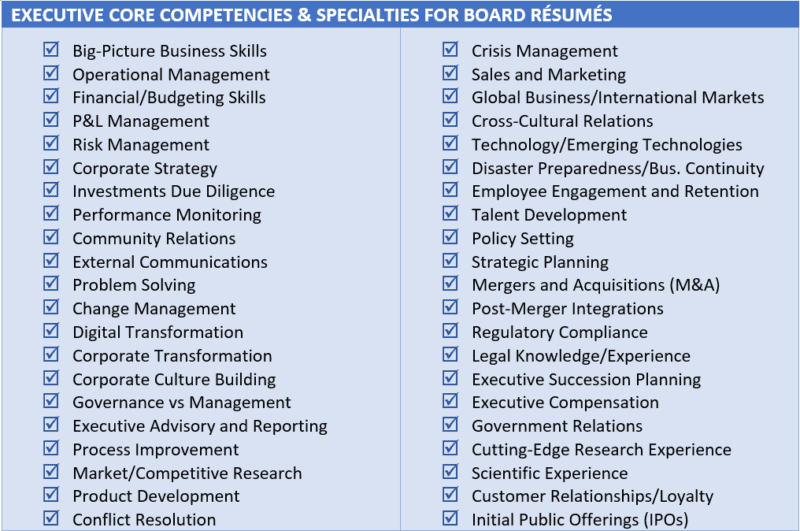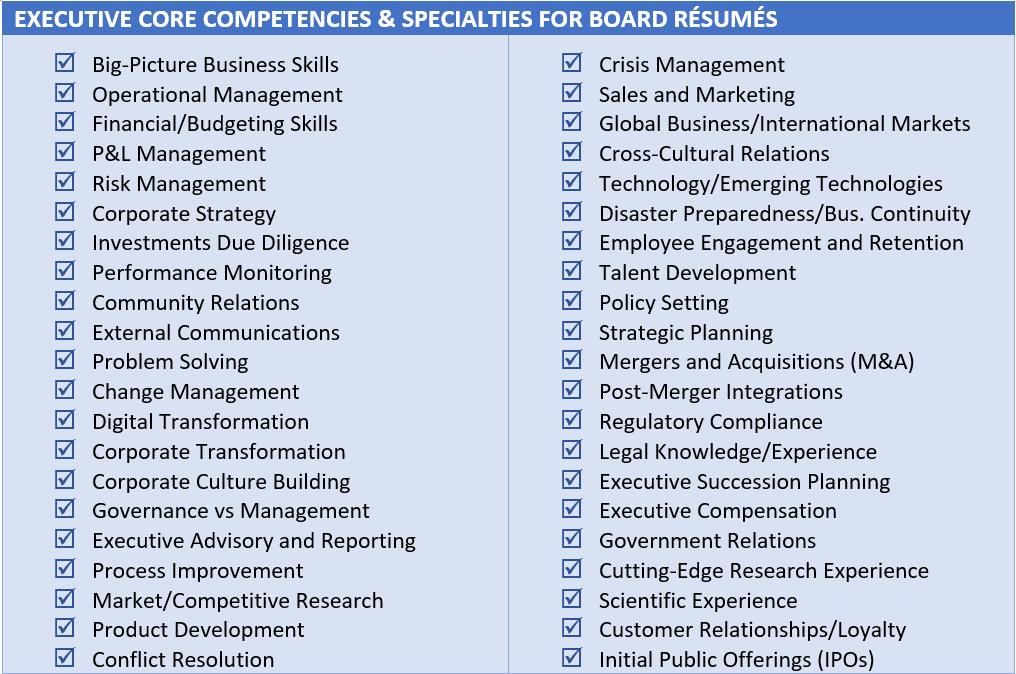 Soft skills can be important on board resumes too. It is especially important that you illustrate soft skills using executive stories of success rather than just stating that you have them. Here are some that you might consider working into your resume.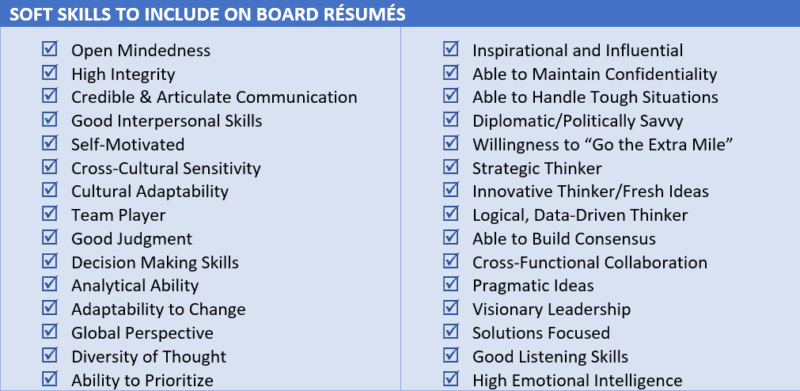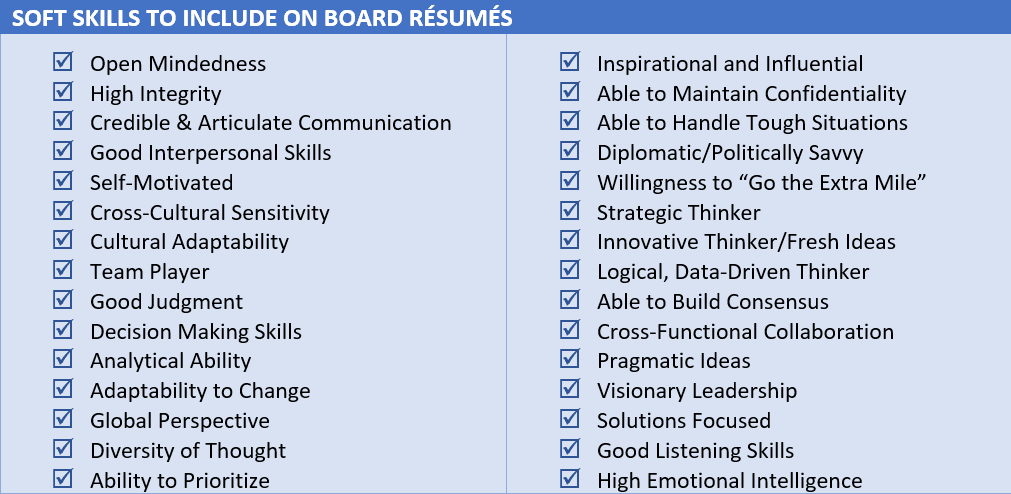 And last but not least, here are some other strengths you may wish to include on your board resume.


Final Considerations for Your Board Resume
How far back in your work history should you go on your board resume? This is one way that a board resume can differ from a typical executive resume. On most executive resumes it is advised that you go back no further in your career than the most recent 15-20 years. This is to avoid including dates that "age" you too much.
On the other hand, longevity of experience can actually be a selling point for a board candidate. While you will still want to focus on your most recent experience, it is okay to include dates older than 20 years.
You should strive to keep your board resume no longer than two pages (three pages are acceptable if you are absolutely SURE everything you've included in your board resume is relevant and important). This will limit the amount of detail you are able to include and will naturally "force" you to trim older content from your resume. But, if you believe it will be a selling point to call out the fact that you are an industry pioneer with 30 years of expertise in that industry, by all means, include this fact in your executive summary.
If you have experience on other boards, this fact should be communicated with priority placement on your board resume. Use your best judgment, of course, but if this experience really enhances your qualifications as a competitive board candidate, you may wish to include it in a separate section immediately following your executive summary but before your career chronology. Otherwise, create a separate heading for your board work and include the details following your career chronology. Here is an example of how you might structure that.


Finally, what about your educational credentials? Your degrees, especially those earned from prestigious universities, are important to include on your board resume. While you should list your education near the end of your resume, if it is really impressive, consider showcasing it in your executive summary too.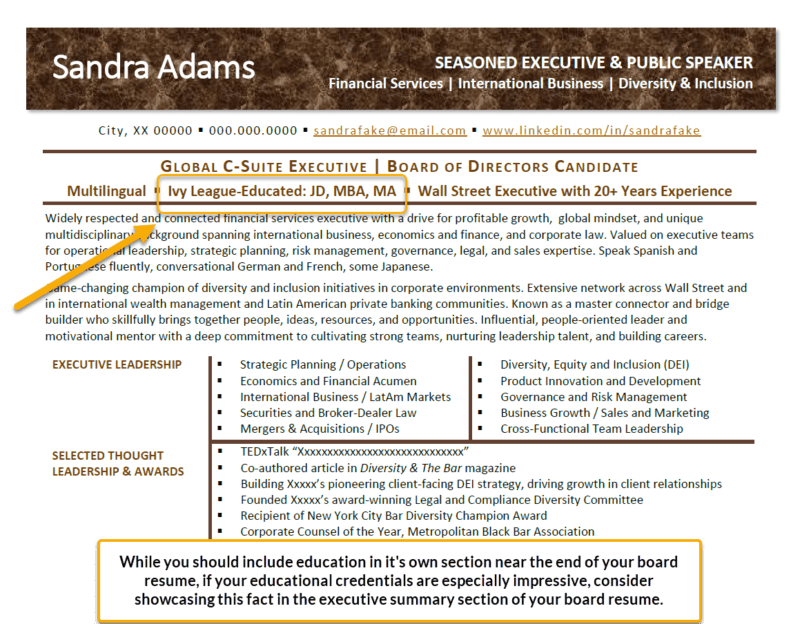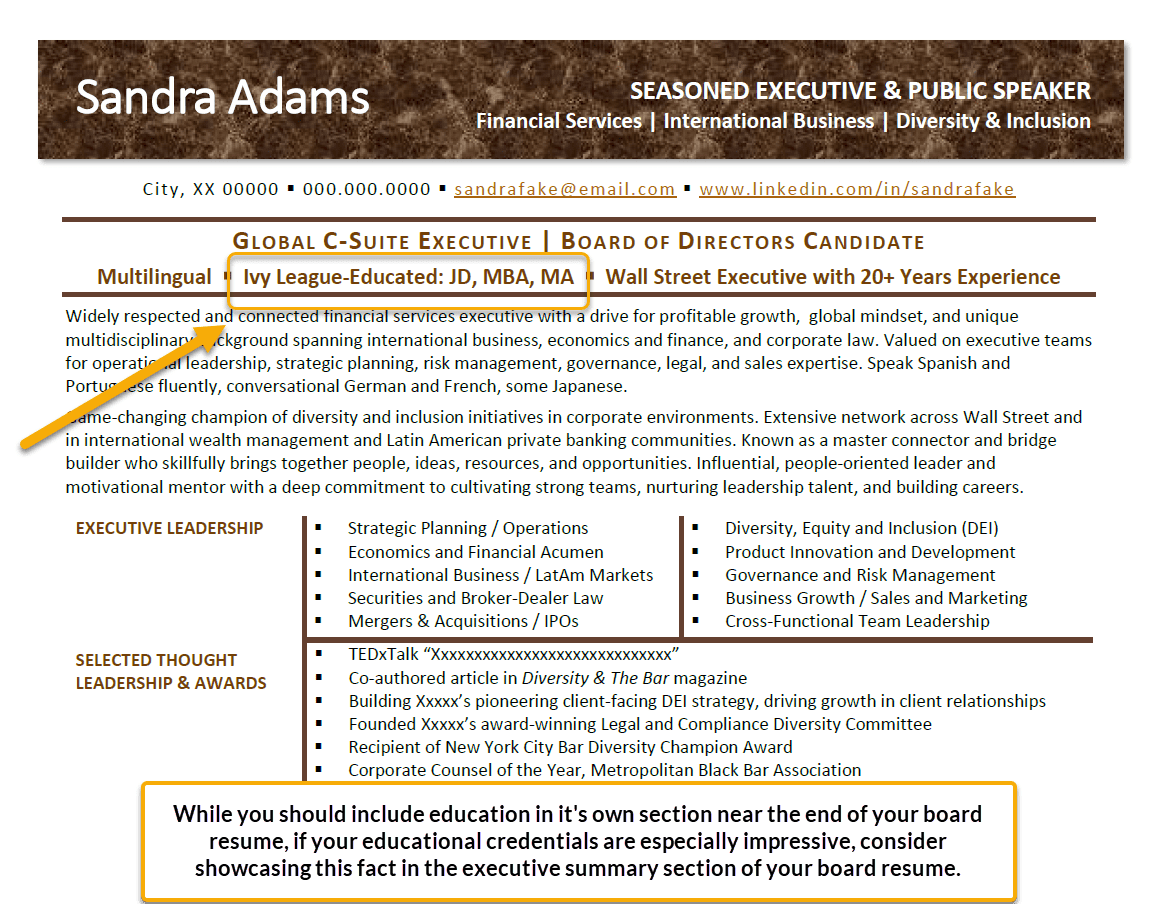 Listing other training beyond degrees can be a way to illustrate your commitment to continuous professional development, so be certain to include this too. It is especially important to list any programs you have completed that have prepared you to be a contributing member of a board. Here is an example of how you might structure an education section at the end of your resume.


More Example Board Resumes & Bios