EXAMPLE C-LEVEL RESUME FOR EXECUTIVES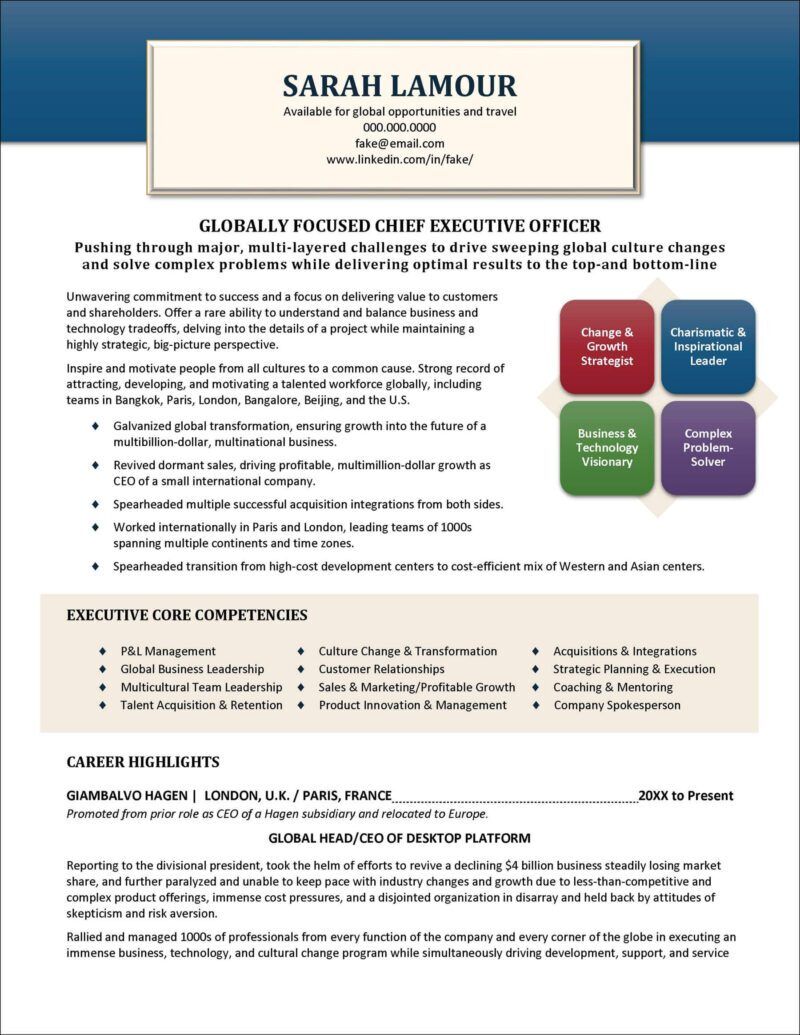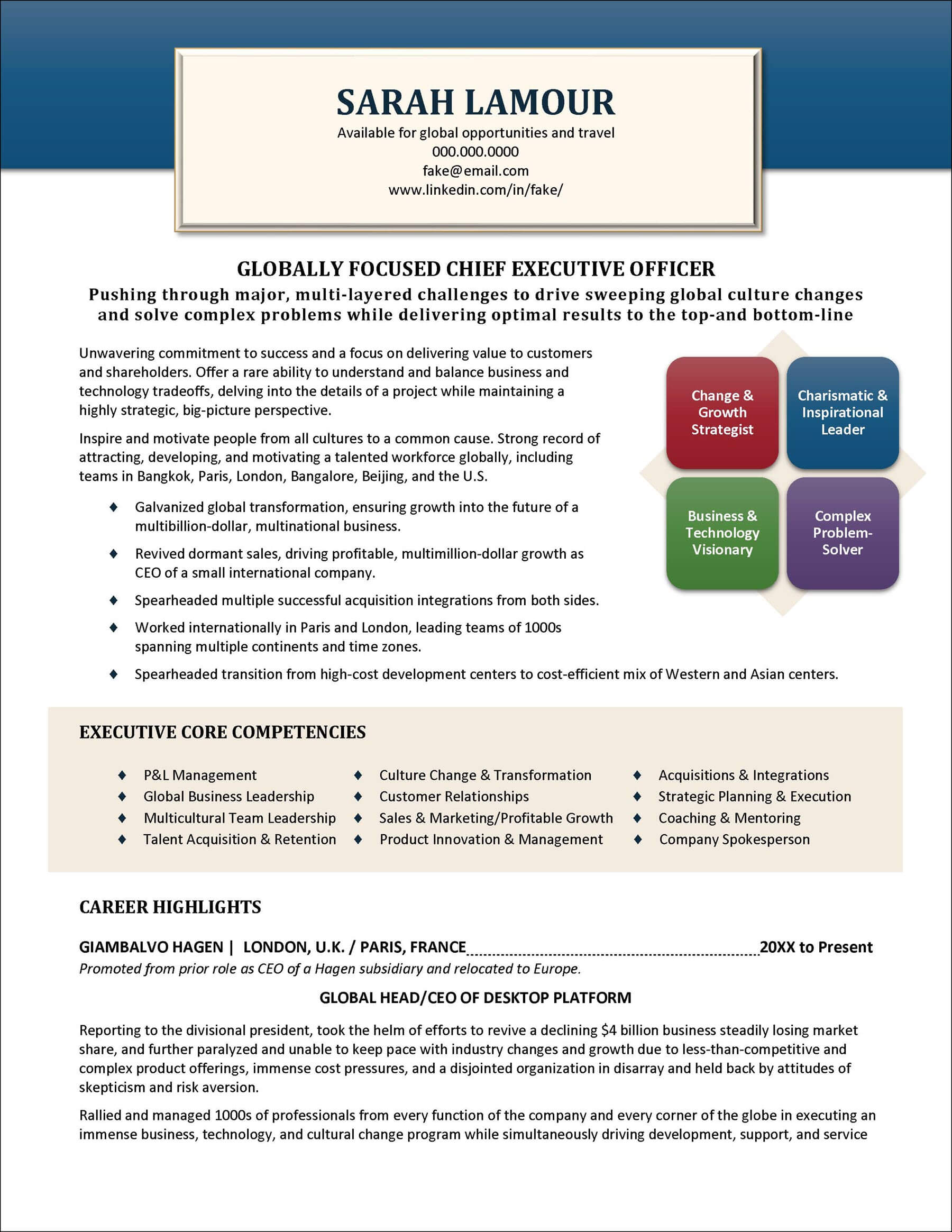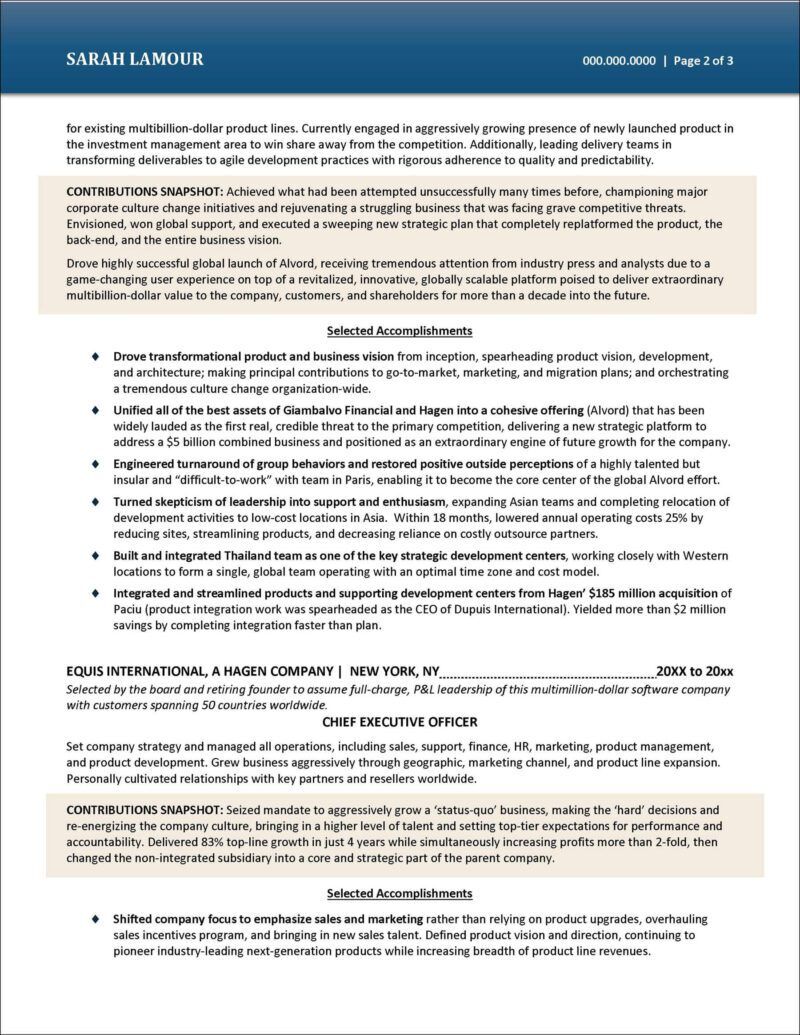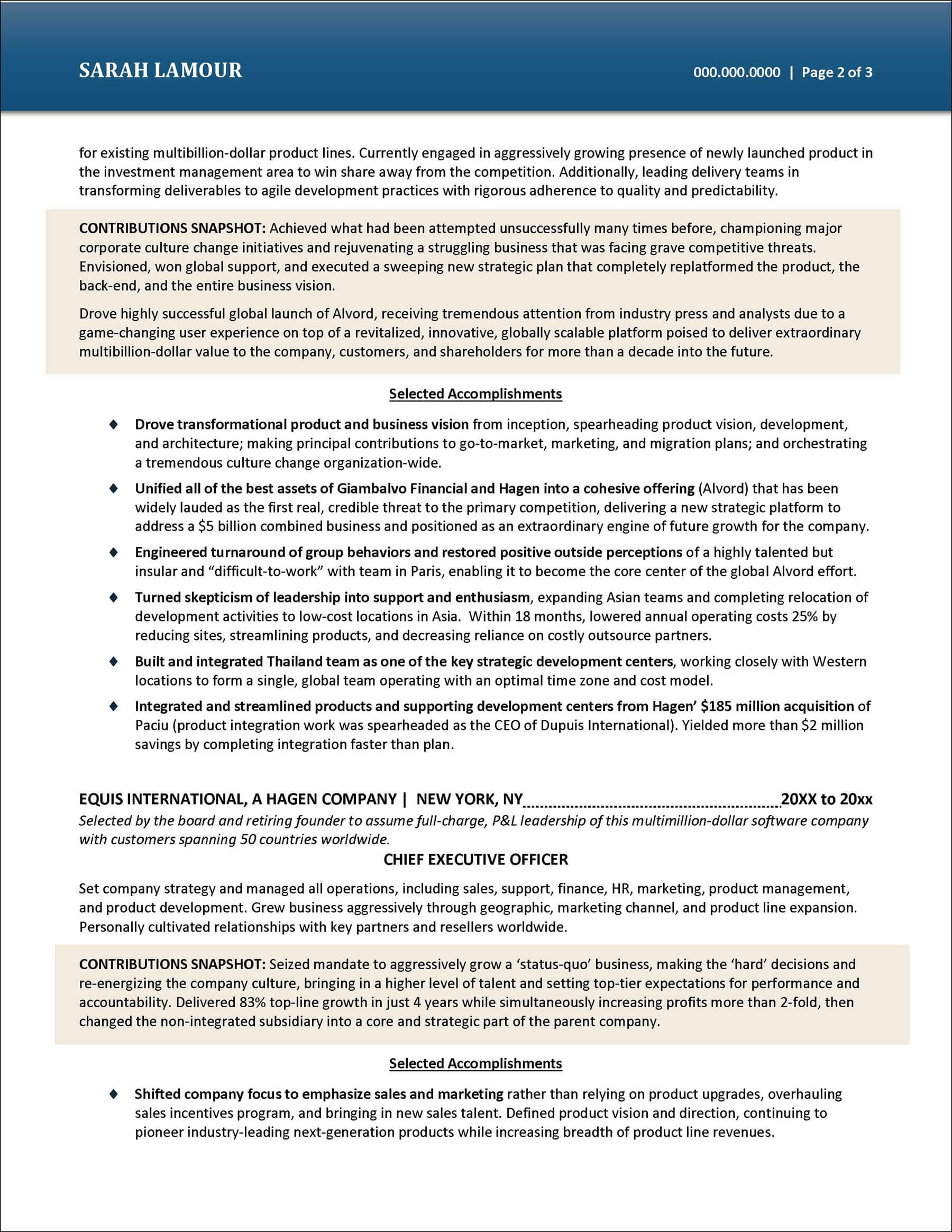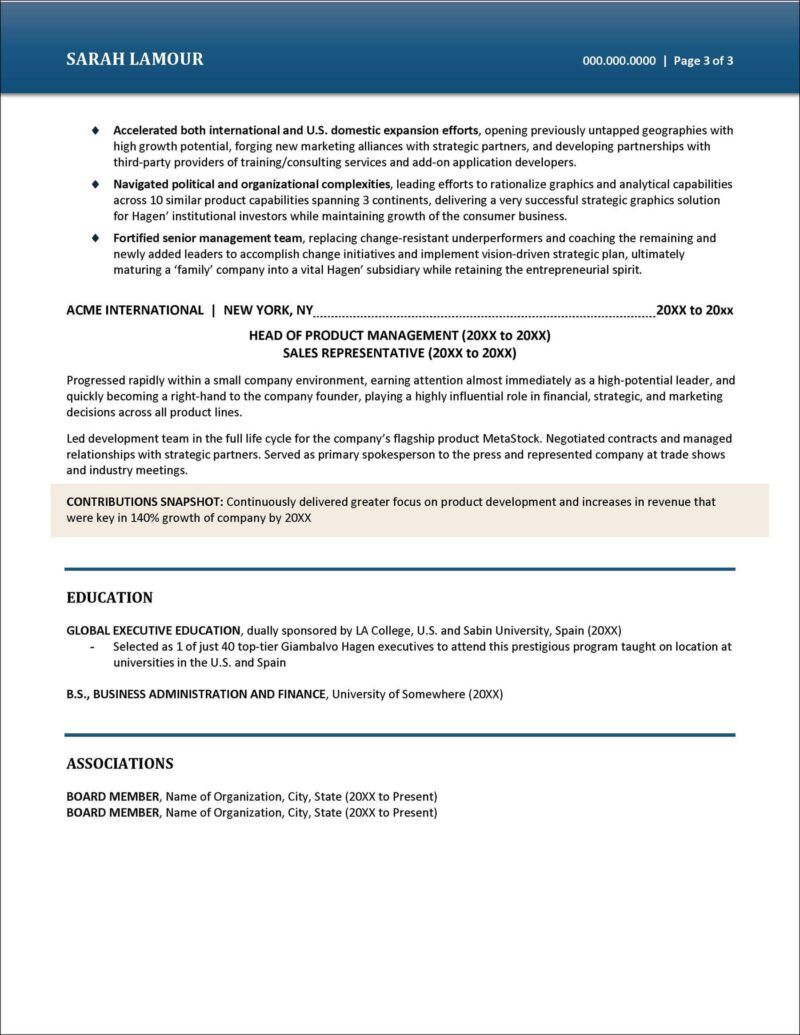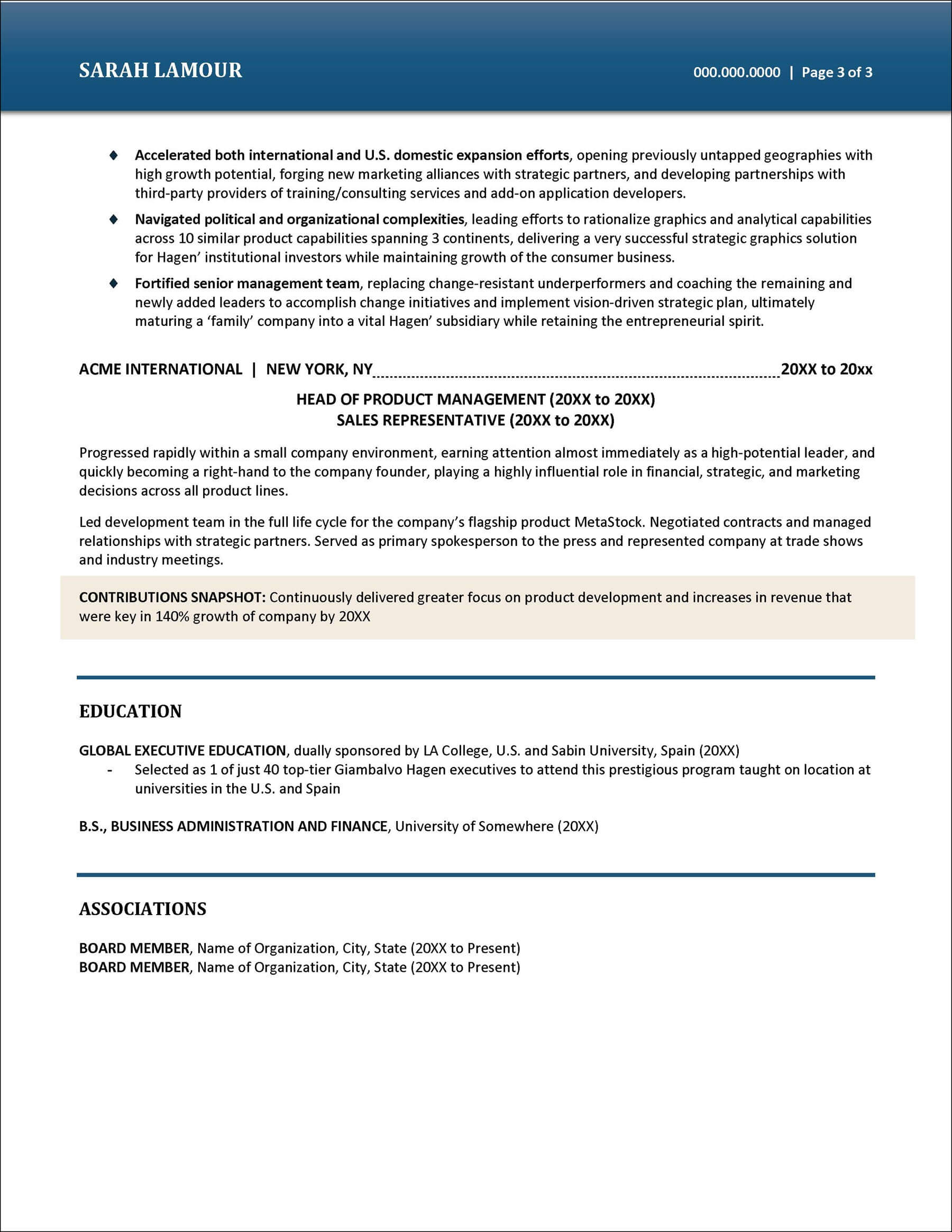 If you found this example C-level executive resume inspiring, you may also have an interest in reviewing other example resumes for executives. Some popular examples include our example CEO resume, senior technology executive resume, example general manager resume, operations manager resume example, corporate president example resume, example CTO resume, example CFO resume, example finance and operations executive resume, board of director resume examples, example corporate finance executive, product manager resume example, and example VP resume. Our example executive biographies may interest you too.
The foundation for the design of this resume is this executive resume template from Distinctive Resume Templates. The content of your executive resume is the most important part of your resume. However, an eye-catching, ATS-friendly resume design ensures your resume will get noticed and win you interviews for the executive jobs you most want.
If you are feeling overwhelmed about writing your executive resume, stop! We are here to help you. Just schedule a free resume writing consultation to learn more about how our executive resume writing services can be of help to you.
Example C-Level Resume Project Brief
This example c-level resume for executives was professionally written to help this globally focused executive with extensive international business experience find her next challenge.
The executive's personal brand and unique value proposition are promoted strongly in the executive profile section of the resume. Sarah was extraordinarily accomplished, and her career stories of challenges, actions, results, and strategic impact offered proof of her claim to "drive sweeping global culture changes, solving seemingly impossible problems while delivering optimal results to both the top and bottom-line."
If you read carefully, you will see that we don't just make claims that Sarah has the qualifications noted in the profile section of the resume. Rather, the body of the resume proves them with concrete examples of the qualification in action.
For example, we note in the profile section that Sarah is skilled in " Multicultural Team Leadership" and "Culture Change & Transformation." But, we don't stop there. We provide real examples, such as:
Engineered turnaround of group behaviors and restored positive outside perceptions of a highly talented but insular and "difficult-to-work" with team in Paris, enabling it to become the core center of the global Alvord effort.
Unified all of the best assets of Giambalvo Financial and Hagen into a cohesive offering (Alvord) that has been widely lauded as the first real, credible threat to the primary competition, delivering a new strategic platform to address a $5 billion combined business and positioned as an extraordinary engine of future growth for the company.
Examples of accomplishments like these are essential and are the element missing from most resumes.