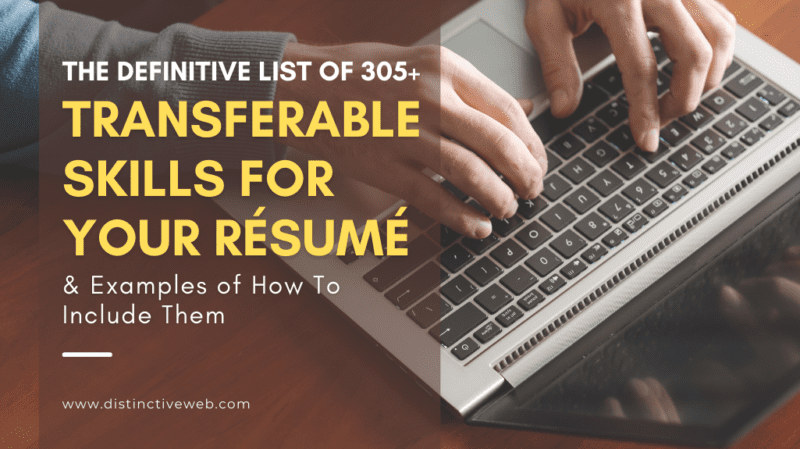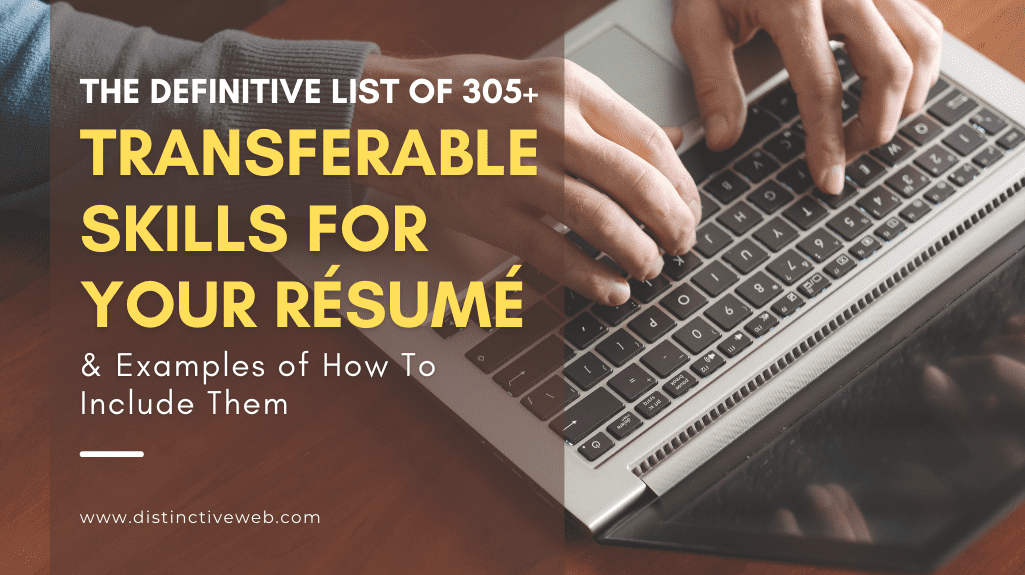 While most job seekers know, in theory, that transferable skills are important to cultivate and include on their resume, many don't fully understand what transferable skills are or how to identify their own transferable skills.
Your professional skill set is key when writing your resume and searching for a new job. There are different types of skills, and when most people think about their professional skill set, they think about their technical or profession-specific skills. In other words, their areas of expertise that are specific to a particular type of job or industry. While these are certainly important, transferable skills are at least equally important.
What Are Transferable Skills and Why Is It So Important to Include Them on Your Resume?
Transferable skills are skills that are easily transferable across jobs and industries. You can think of them as being "portable" skills. These are the skills you bring to the employment table from volunteer positions, previous employment, internships, education, and life in general.
The more transferable skills you have, the easier it will be to convince employers of your ability to add value in the workplace. This is why it is critically important that you include transferable skills on your resume. These are the skills you can use in any work setting. Beyond any job-specific skills, transferable skills are a value-add to employers, letting them know that you can contribute beyond your job description.
Transferable skills are especially critical when you are writing a career change resume. Employers usually seek very specific qualifications for a job opening. Especially when changing careers, you may not have the exact skill being sought. But you may possess a transferable skill similar to the employer-sought skill, and you can use this transferable skill to illustrate how you can meet the employer's needs even if you aren't a perfect match for the job description.
How To Include Transferable Skills on Your Resume
Virtually all employers and recruiters use applicant tracking systems (ATS) to manage applicants and resumes. In very simplified terms, this means that recruiters will enter your resume into a database along with the resumes of all the other applicants. Then, when there is a job opening, the database is searched using a set of keywords that describe the qualifications that the employer requires or desires. These keywords may be industry- or job-specific skills, but they are often also transferable skills. If your resume includes the skills the employer searches for, your resume will be placed on a shortlist for more review by a human reader.
Knowing this, you can understand why it is so important to include sought-after transferable skills on your resume. They significantly increase your chances of being considered a competitive candidate for the job. There are a variety of ways that you can include transferable skills in your resume, but one especially popular way is to include keywords in the summary section of the resume, as shown by this example:

Of course, you should also fill the body of your resume with transferable skills. You will find many opportunities to include transferable skills in the employment history section of your resume. Here is an example:


The most important thing to remember as you write your resume is that you must always "show" rather than just "tell." This is true as you include transferable skills in your resume, but it is also true when it comes to job-specific and technical skills as well as your personal brand attributes. Just saying you have "strategic thinking" skills is so much less impactful than providing an example of an accomplishment in which you have put your strategic thinking skills to work for an employer. Here is an example that illustrates this: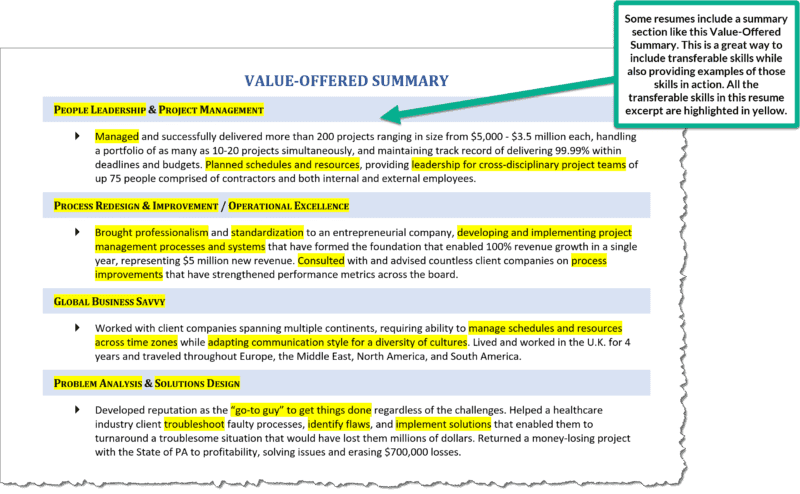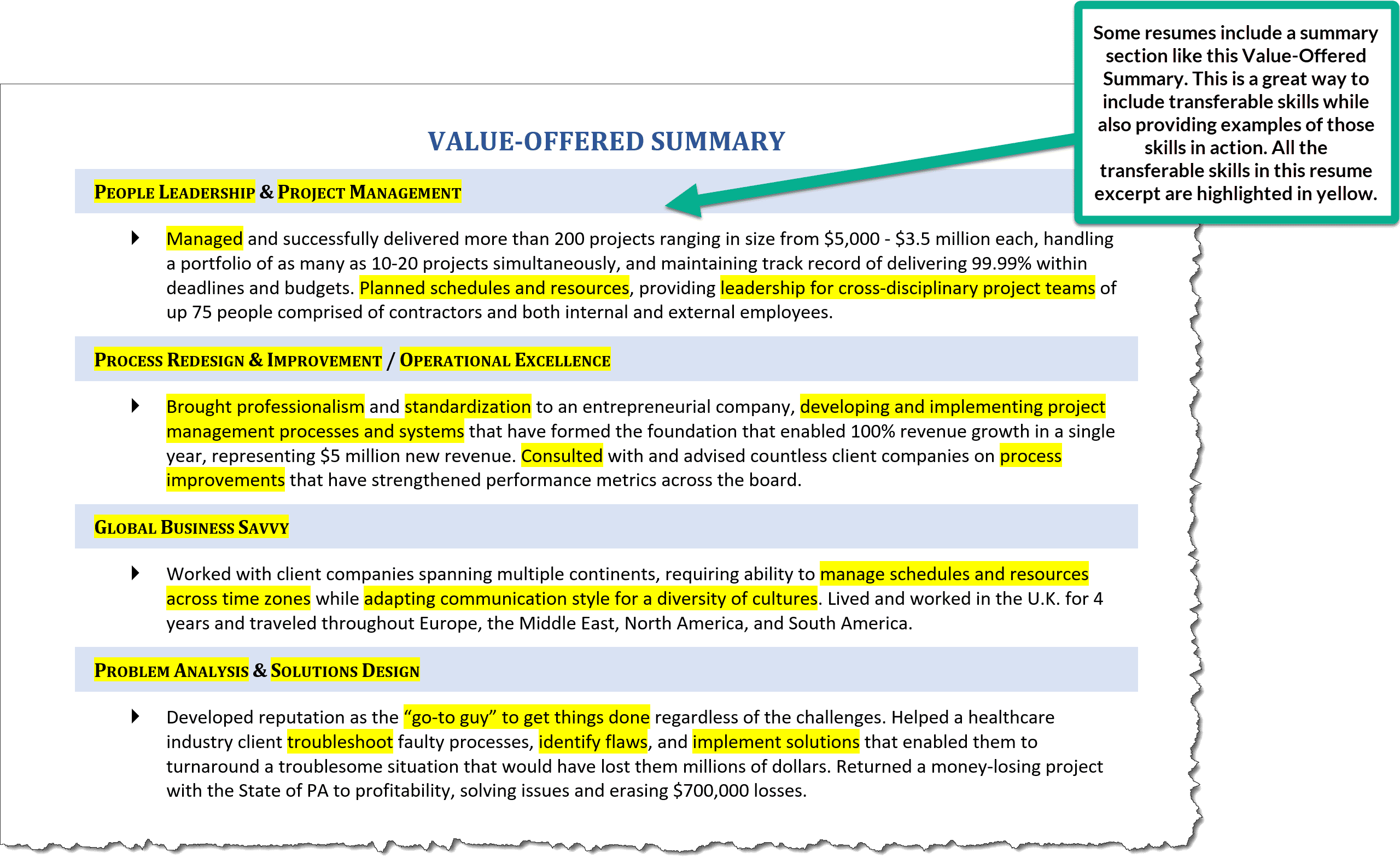 How Do You Identify Your Transferable Skills?
When asked, "what are your transferable skills?" if you are like many people, you may recite a few transferable skills but have trouble coming up with a comprehensive list.
But most people have far more transferable skills than they think, which is probably true of you. A thorough review of your background is likely to reveal far more transferable skills than you may have realized. This is where reviewing a comprehensive list of transferable resume skills can be helpful.
305+ Transferable Skills for Your Resume
Go through this comprehensive list of transferable skills, one by one. Consider each and jot down all those that apply to you. Now, go one step further and make written notes to yourself with examples of how you have used the skill in the past. Save these notes to refer to was you write your resume. Try to include all your most important transferable skills on your resume and the experiences that show how you used them.
Ability to learn
Accepting responsibility
Achieving goals
Acting as a liaison
Action planning
Adapting
Administering
Advising
Advocating
Allocating resources
Analyzing data or trends
Anticipating
Arbitrating
Articulating
Arranging information
Assembling things
Assessing performance of others
Assessing risks
Attending to details
Auditing
Avoiding problems
Balancing financial information
Balancing schedules
Bargaining
Bartering
Being punctual
Being tactful
Brainstroming
Budgeting
Building relationships
Building things
Building trust
Calculating or computing
Caring for others
Clarifying
Classifying data
Classifying objects
Coaching
Collaborating
Collecting information
Coming up with innovative ideas
Communicating verbally
Communicating in writing
Comparing facts
Compiling information
Completing projects on time
Composing documents
Computing numbers
Conceptualizing ideas
Conflict resolution
Confronting others
Controlling budgets
Controlling costs
Cooperating
Coordinating
Correcting problems
Corresponding
Counseling
Creating
Creative thinking
Critical thinking
Critiquing
Data mining
Dealing with people
Dealing with unknowns
Debating
Decision making
Delegating
Demonstrating
Depicting
Designing
Detecting errors
Detecting problems
Developing people
Developing strategy
Diagnosing problems
Directing events
Directing others
Disciplining
Dramatizing situations
Drawing
Driving
Editing
Effecting change
Empathizing
Encouraging others
Enduring hardships or challenges
Enforcing rules or regulations
Entertaining
Establishing policy
Estimating (costs, distance, size, etc.)
Evaluating others
Event planning
Exercising diplomacy
Exercising discretion
Exhibiting ideas
Exhibiting products
Expediting things
Experimenting
Explaining
Expressing attitudes
Expressing feelings
Extracting information
Facilitating conversation
Facilitating meetings
Filing records
Filling orders
Financial planning
Following directions
Following through on tasks
Forecasting future events
Gathering data
Gathering objects or materials
Getting people together
Giving feedback
Goal setting
Governing
Graphing information
Grouping people
Grouping things
Growing plants
Handling complaints
Handling details
Handling situations with diplomacy
Harmonizing
Helping others
Hiring
Hosting
Identifying opportunities
Identifying resources
Identifying similarities
Illustrating
Imagining
Implementing decisions
Implementing ideas
Improving machinery/tools/equipment
Improving situations
Improving systems or processes
Improvising
Increasing efficiency
Indexing data
Influencing
Informing
Initiating
Inquiring
Inspecting
Inspiring others
Installing equipment
Instructing others
Interfacing with the public
Interpreting
Interrogating
Interviewing
Inventing new ideas
Investigating
Isolating causes
Judging truth
Justifying
Keeping confidentiality
Keeping records
Keeping track of details
Leading
Learning quickly
Listening
Locating information
Logistical planning
Logging data
Making contacts
Making decisions
Making referrals
Managing conflicts
Managing correspondence
Managing crisis situations
Managing money and budgets
Managing people
Managing projects
Managing risks
Managing time
Manipulating data
Mapping
Measuring
Mediating
Meeting deadlines
Memorizing
Mentoring
Merging resources
Mobilizing people
Molding things into shape
Motivating others
Motivating self
Moving quickly
Navigating
Negotiating
Nurturing
Observing
Operating machinery
Operating tools
Operating vehicles
Organizing data and things
Organizing social activities
Originating new ideas
Organizing people
Painting
Perceiving needs
Performing
Persuading others
Planning
Predicting outcomes
Preparing
Presenting
Preserving ideas or beliefs
Preserving things
Preventing problems
Producing
Project planning
Promoting
Proofreading
Protecting people or property
Providing feedback
Public speaking
Purchasing
Putting things in order
Quantitative analysis
Quantitative problem solving
Questioning
Raising funds
Rapport building
Reasoning
Reconciling differences
Reconciling records
Recording information
Recreating situations
Recruiting people
Reducing things
Rehabilitating people
Rehabilitating things
Remembering information
Repairing things
Reporting
Representing
Researching questions
Restoring things
Risk management
Running meetings
Scheduling
Selling
Sensing moods
Sensing the needs of others
Sequencing processes
Servicing equipment
Setting criteria
Setting goals
Setting policies
Setting up equipment
Shipping things
Showing confidence
Showing courage
Signaling
Simplifying
Solving problems
Sorting objects
Sorting objects or material
Speaking in public
Speeding up jobs/projects
Strategic planning
Strategic thinking
Strengthening programs
Summarizing
Supervising
Surveying
Synthesizing data
Systematizing
Tabulating
Taking care of details
Taking initiative
Taking inventory
Teaching
Theorizing
Thinking ahead
Time management
Tolerating interruptions
Training
Transcribing
Transferring data
Transferring things
Troubleshooting
Typing
Understanding cause and effect
Uniting people
Using artistic talent
Using complex equipment
Using creativity
Using eye-hand coordination
Using physical ability
Using databases
Using spreadsheets
Using word processing software
Using technology for analysis
Verifying information
Visualizing
Working as a team
Working independently
Working on committees
Working under stress
Working with animals
Working with precision
Writing