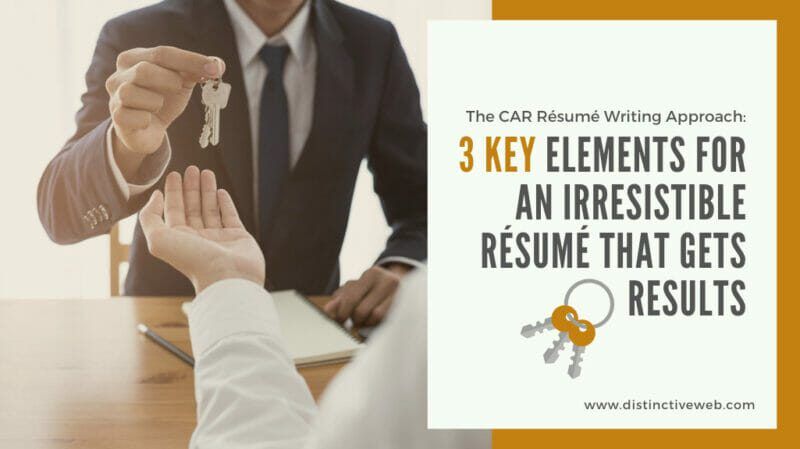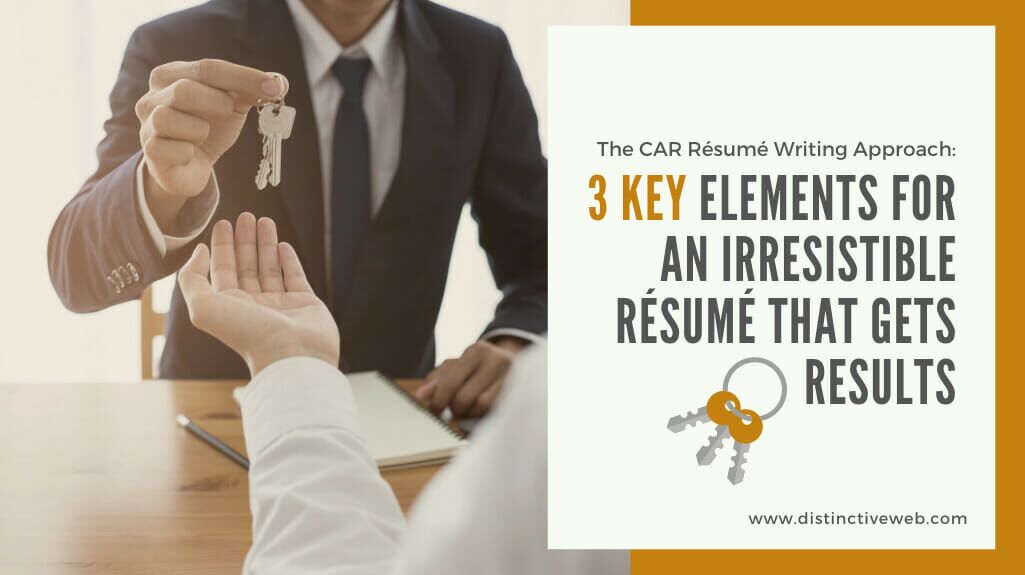 Focus on accomplishments in your resume: this is common resume writing advice that almost everyone has heard. After all, past performance is the best predictor of future results.
Accomplishments help hiring managers understand the potential benefits and results you could produce for them should they choose to hire you. After all, a new employee is an investment, and hiring managers want to know that when they hire you, it will be a profitable investment.
How can you prove this to them in your resume?
Simple: include elements that will show them how you will make them money, save them money, increase efficiency, boost productivity, strengthen their competitive edge, grow the business, improve customer relationships, or solve other business problems.
What Is the CAR Resume Writing Approach?
The best and most efficient way to tell the stories of success that provide employers with the predictors they need to understand your future potential is what is known among professional resume writers as the CAR resume writing approach.
No, I'm not talking about the car sitting in your driveway. And I'm not talking about an auto technician resume or an automotive service manager resume. Rather, the C.A.R. method is an acronym for the three absolutely crucial elements of a competition-killing, results-generating resume: challenges, actions, and results. This is also often referred to as the CARS approach (challenges, actions, results, and strategic impact). You may also hear it referred to as the STAR approach.
Together, these form the framework of CAR method success stories that will transform an "okay" resume into an irresistible resume that compels employers to pick up the phone. Why? Because they just can't wait to talk with you and learn more about how hiring you would benefit their company.
Avoid This Common Resume Mistake
One of the biggest mistakes on resumes is also one of the most common mistakes: Boring job descriptions that focus on the responsibilities and functions of the job performed.
Knowing the importance of including accomplishments, some job hunters take the next step and include a few accomplishments.
But, accomplishments alone are not enough.
To make an accomplishment meaningful, it must include some explanation of the context in which it was achieved. Accomplishments listed without the results, benefits, and value-add they produced for the past employer mean even less.
This is what makes the CAR resume writing approach so powerful.
When you use this technique, you will rewrite your resume's employment section to tell a compelling "story."
For the maximum impact, your accomplishments should be presented as concise "success studies" complete with challenge faced, action taken, immediate result, and strategic importance.
By conveying your career accomplishments in this "story" manner, you make a connection with the reader. You also become far more memorable than all the other job candidates.
Examples of the CAR Technique
This first "before" model resume example (below) illustrates the mistakes that many people make when writing their resumes. Boring bulleted lists describe the job functions for which this person was hired. There are a couple of accomplishments and results included, but they are far from the focus of the document.
There is also no real way to understand the accomplishments as the situation in which they were produced is not described.
This resume will fall flat when used in the job market. It looks just like every other one. It doesn't stand out and get attention.
After rewriting the resume (example below) to showcase the challenges, actions, and results, it is far more compelling.
This excerpt of the employment section clearly tells you that this candidate is an expert in turning around and revitalizing underperforming divisions and business units. That fact alone sets this candidate apart from his competition.
The resume goes on to describe this job hunter's many achievements and the results that have been delivered through his work for the previous employer.
A boring resume has been transformed into an irresistible one. Employers who are seeking a candidate to help them revive the performance of their company will be drawn to this candidate and won't be able to pass up calling him to learn more. Note also the design techniques that we've used to make what could be an overwhelming amount of information easy to read. The eye is drawn from key point to key point.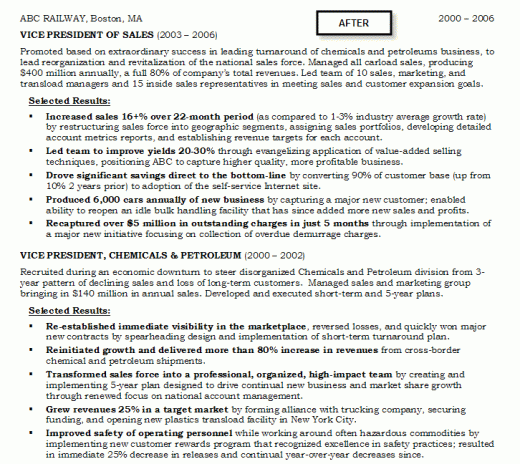 Here is another similar example resume. The before version includes some good information, but it is presented in a boring and hard-to-read-at-a-glance format that doesn't go far enough in describing the situation/challenge.
It is also very light on results. This client insisted that it was impossible to quantify results.

The after version shows again what a difference professional resume writing and the CAR technique can make.
Although we were still unable to unearth any quantified results, we reworded accomplishments to focus on the benefits and value add of each accomplishment. A sidebar provides an easy-to-read and eye-catching "snapshot" of the major challenge faced in the position and the overall key results produced.
The accomplishments and results presented in context give the reader an immediate understanding of the strategic impact this candidate had on the company. Again, an employer seeking a candidate to help them grow their business to the next level of success will find this candidate irresistible and will feel compelled to pick up the phone and call him for an interview.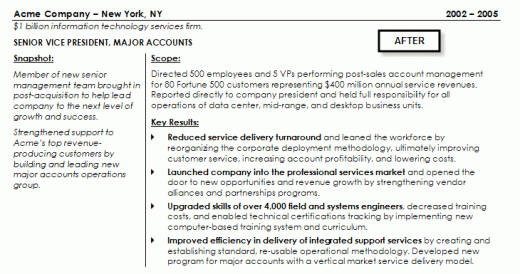 For more inspiration on how the CAR method can be used to turn a dull resume into a winner, take a look at the many professionally written resume examples on our site showcasing the work of the Distinctive Career Services' writing team.
But, there is no reason to struggle to apply the CAR approach yourself. We invite you to schedule a free Discovery Consultation to learn how working with a skilled professional resume writer will benefit you: often through a faster and more successful job search that may end in landing a job at a higher salary simply because your resume has done such a great job of proving the outstanding returns you will deliver on the investment an employer makes in hiring you.