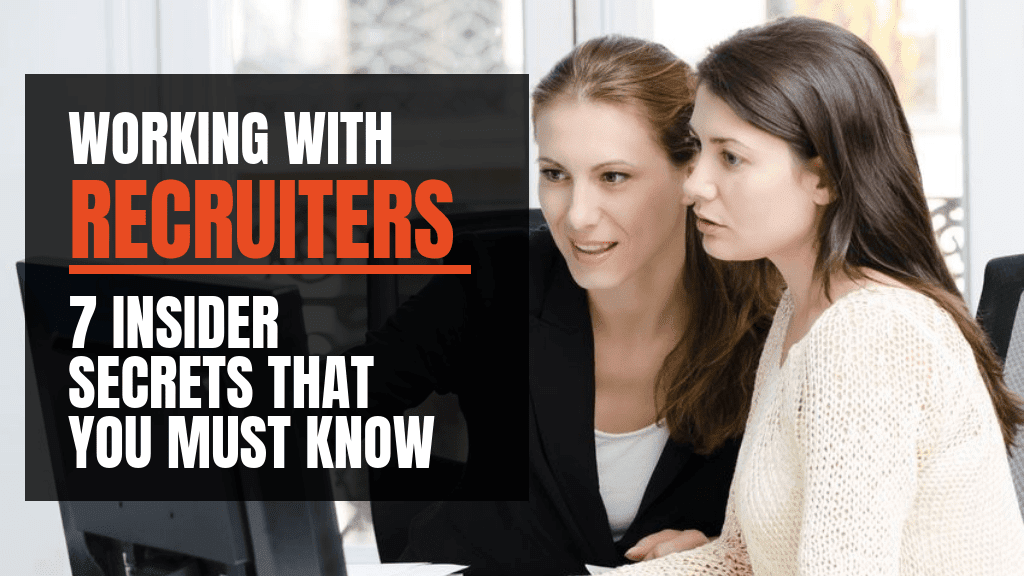 For most job seekers, conducting a comprehensive job search includes—at least to some degree—interfacing / working with recruiters (a.k.a., headhunters). But, for many people, this is also one of the most misunderstood aspects of a job search.
Here are some quick tips and "must-knows" to demystify the process of contacting and working with recruiters, and to help you build relationships that ensure you are top-of-mind when the ideal position for you comes across a recruiters desk.

1) There are two types of recruiting firms and the distinctions are crucial to understand.
Retained recruiting firms work directly for client companies and are paid to screen candidates based on very specific criteria. Retained firms often handle recruitment searches for the most senior and highest-paying positions.
Contingency firms sometimes work in competition with each other and only get paid if they find the winning candidate for an open position.
IMPORTANT: Note that in both these cases, the company pays the fee to the recruiter, not the job seeker. It is not customary for a job seeker to pay the recruiting fee, so if you are being asked to do that, be very cautious.
2) Remember that recruiters work for the company, not for you!
This is the most common misperception. The company is their "client" and you are the candidate—essentially the "product" that the recruiter is offering to their client.
Because of the way the recruiting industry is structured, most recruiters will be seeking to work with the candidate most likely to get hired (the candidate who fits a very specific profile provided by the client). 'Most likely to get hired' does not necessarily translate to 'most likely to succeed,' so if you find you are not the perfect fit for a position, don't take it personally.
For this reason, trying to make a career change of any sort, recruiters will not be your best source as you will rarely fit the profile provided to them by the client. This doesn't mean you shouldn't contact them. But, do keep your expectations in check.
3) Recruiters will often tell you that you (the job seeker) should cultivate an exclusive relationship with just one or two recruiters.
In an ideal world, this would be great, but I disagree with this advice.
Recruiters don't necessarily share information about searches that they are working on. So, if you only contact a couple of firms and 20 others have an assignment that matches your qualifications, you would never know about those assignments.
That is why I recommend contacting as many recruiting firms that specialize in your industry or profession as is practical. If you have provided your resume, most recruiters will place it in their proprietary database, and if a future search calls you up as a perfect candidate, they will contact you, even if you haven't had the opportunity to build a truly personal relationship.
4) Related to point #3, once you have contacted recruiters and have begun to establish rapport with at least a few, your goal is to begin to build personal relationships.
Treat recruiters no differently than you would treat any other contact in your network. While the initial contact is generally made via email, now is the time to pick up the phone and start to build a dialogue.
The best networkers know that effective networking involves some degree of reciprocity. Do you have a lead that would help he recruiter fill a position assignment they are working on? Make a quick phone call. Did you see something important in the news related to an industry specialty of the recruiter? Send a quick email.
By being helpful, you ensure the recruiter remembers you the next time they have a position that is a match for your background and interests.
5) Again, related to point #3, do your research.
There are presently well over 15,000 recruiting offices in just the United States alone. It is impractical and a waste of everyone's time to contact all of them indiscriminately.
Do a little research and determine which firms specialize in your industry of choice or positions like you are seeking. This small, segmented list is the one you should focus your time and attention on.
This is called taking the "rifle" approach versus the "shotgun" approach. There are a few credible service providers that will assist you with the research and with contacting recruiters using the rifle approach, but most use the shotgun approach. If you decide to hire help during this stage, make sure you understand this distinction and which approach the provider is using.
6) Make it easy for recruiters to help you.
Structure and write your resume in a format that makes it easy for them to quickly identify your key qualifications. This is not the time for a functional resume! Most recruiters will simply throw a functional resume away.
You must also be absolutely honest. Do not be tempted to embellish your resume. If you are found to be lying about anything, you will be black-listed.
Your accompanying cover letter should be fact-filled and written specifically to help the recruiter match you to their open assignments. When writing letters for clients, I often include three to five bullet points that clearly identify the qualifications and experiences that we anticipate the recruiter will be most interested in and looking for.
Also, make the focus of your job search crystal clear. Be specific and tell the recruiter what you are looking for, the type and level of position, the size and type of company, your geographic preferences, and the salary range you are targeting. Yes: salary range. Most recruiters will ask you for this information, and you should provide it.
7) Put some thought into your job search and the order in which you will conduct it.
If you have already contacted a company, your resume is likely already in that company's internal database. If a recruiter now presents you as a candidate for a position at that same company, the company will not want to pay the recruiter for finding you because you are already known to the company. This creates a level of complexity in the whole deal that is almost impossible to overcome and most recruiters won't work with you if they suspect you have blanketed HR departments with your resume.
Selectively targeting a limited number of specific companies is more effective than broadcasting resumes to HR departments anyhow, but understanding this truth about recruiters just gives you another reason to do so. Just be smart about it, be selective, and use discretion.
Updated from an article originally published here on Oct 18, 2010.