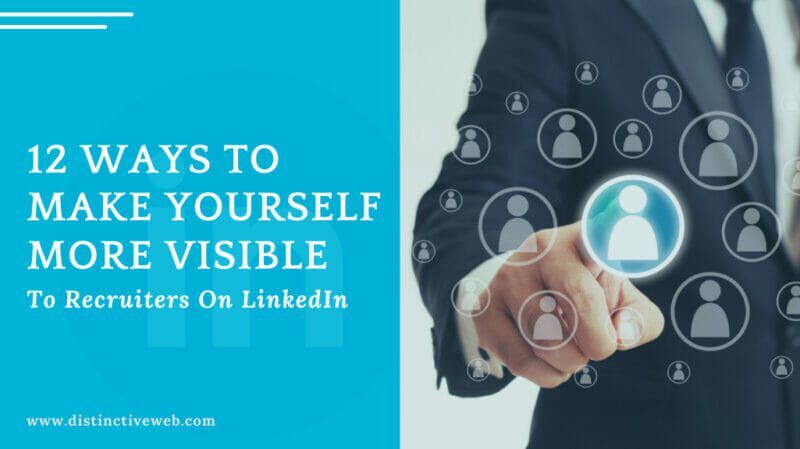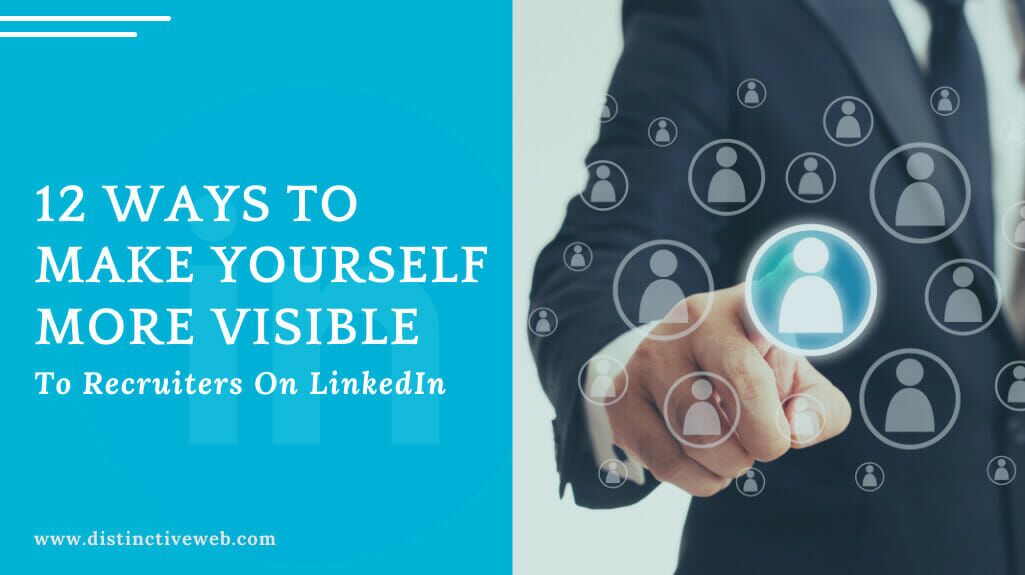 Once upon a time, you could reasonably expect to find decent job opportunities by searching through the classified ads of your city's daily newspaper (yes, people did that). Today, not so much.
Competition for jobs is fierce and access to information about specific employment opportunities is available to virtually anyone at any time via desktop, laptop, smartphone. These factors now force you to utilize more than the traditional job search tools if you want to advance your career.
To that end, social media is perhaps the most effective tool available to you. And LinkedIn is the social media networking site most recommended for professionals because it's widely used by employers and recruiters alike. Developing and maintaining a complete LinkedIn profile is an essential component of any comprehensive job "availability" strategy.
Why do we say "availability" rather than "search"? Because while you might not be actively seeking other employment, you certainly don't want to limit your options by making it difficult for employers and recruiters to find you.
Keeping an online profile visible to peers, colleagues, employers, and industry, in general, is one way to keep your options open by making you visible to potential employers and the recruiters they engage.
There is a caveat, however: Although a current, vibrant LinkedIn profile is beneficial, you don't want it to be so vibrant that it basically screams "pick me, pick me, I'm looking for another job!", something not likely to impress your current employer.
In addition, even if your present employer isn't monitoring your social media activity, chances are that one or more of your colleagues are among your connections on LinkedIn (or friends on other social media sites) and may, for whatever reason, not be shy about bringing your LinkedIn activity updates to the attention of your boss. Uh oh.
This creates a bit of a quandary, of course: How to make yourself more visible to recruiters on LinkedIn while keeping your availability a secret (Hint: it's similar to the notion of "hiding in plain sight"). Here's how:
Evaluate your LinkedIn profile.
Is it complete? Profiles that are considered "complete" by LinkedIn's standards receive 40 times more "opportunities" (contacts from prospective hiring managers and recruiters) than incomplete profiles.
Is your LinkedIn profile current? Is it engaging? Now is a good time to update your profile or perhaps even scrap it and start over. You'll set a new baseline for your online persona and subsequent changes/updates won't seem out of the ordinary. Things to consider:
Don't just state your name and title. If the first words you write about yourself aren't interesting, they may be the only words recruiters read.
Make sure your summary isn't stale.
Update your skills list so that it accurately details what your actual skills are.
Buzzwords have no buzz. "Results-driven", "detail-oriented", etc. We know what they mean, yet they really don't mean anything; they are not, therefore, useful.
Status updates or not?
We are talking about the feature that notifies all your connections of job changes, promotions, work anniversaries, and other key events, This is actually a bit tricky. If you don't want LinkedIn to notify your connections each time you update your status, set your LinkedIn privacy settings accordingly.
Customize the default LinkedIn headline.
Your LinkedIn Headline is one of the first things someone sees when they search for you. You have 220 characters to work with. Use them and promote your personal brand and differentiating value offer. Make sure your headline includes keywords that recruiters might use when searching for a candidate to fill a job opening that would be of interest to you.
Include a current and professional headshot of yourself.
LinkedIn profiles with photos get 21 times more views and 36 times more messages. Is your LinkedIn profile photo giving the right impression? If you haven't already uploaded a photo do so today. If the photo you have uploaded is outdated, replace it with a more current one. This is important!
Prune your groups.
While LinkedIn Groups are not used as much as they used to be, joining and participating (when you can) groups related to your industry and profession helps make your profile more visible to recruiters. Get rid of ones you don't participate in or that are not relevant to your current career goals and replace them with new ones. Recruiters use LinkedIn groups to mine for job candidates and to understand your experience and areas of expertise. Participate in the groups you join by sharing relevant, helpful information on the topic of the group. You can also answer questions that other members ask in the groups. Besides just making yourself more visible to recruiters, this is a great way to expand your professional network.
Refresh your skills.
The Skills section of LinkedIn is too often a neglected section. Keep your skills section updated with all the most in-demand skills that you bring to the table as an expert in your field or industry. Recruiters most often use job titles and hard skills as keywords when they search for a candidate. You must have the right mix of the keywords they are searching for to rank highly in their search. The skill plays a vital role in keyword-optimizing your profile. Ask your connections to endorse your skills and provide recommendations.
Keyword-optimize your entire profile.
While we are on the topic of keyword optimization, take a fresh look at your entire profile to make sure it includes all the most important keywords for your industry and profession. Use your Headline, your Summary, and Job Titles (include your job title but use the extra space to include descriptive keywords that represent your major responsibilities in the position). Write complete, keyword-rich descriptions of your experience.
Check your location and industry.
When you create your LinkedIn profile, you will be asked to include a geographic location and to select a single industry representing your expertise. Most people simply list the location in which they currently live and the industry in which they currently work. For many people, this is exactly the correct thing to do. But, if you are looking for work in a new geographic location or to make a career change into an industry in which you aren't currently working, these should be forward-looking fields. Choose the location that represents where you want to work and the industry in which you hope to work with your next career change.
Use the 'Open to Work' setting.
This might seem obvious, but if you want recruiters on LinkedIn to know you are open to work, it is smart to make sure they know that you are open to new opportunities. Whether you are an active or a passive job seeker, this is a valuable action step. Complete all of the options to you, specifying job titles of interest, industries of interest, and geographic areas of interest. If you are currently employed or otherwise conducting a stealth job search make sure you check the option to allow only recruiters to see this.
Follow companies of interest and engage with their content.
As a savvy job seeker, you should have already created a list of companies you would like to target in your job search. Follow those company pages. LinkedIn allows users to set up job alerts on a Company Page. Once you've set up a job alert, you'll be notified of new jobs that match your skills through the Notifications tab. You can also share your interests with recruiters of companies you are targeting. Your details will only be shared with recruiters who want to contact members who have created job alerts specifically for their company.
LinkedIn's artificial intelligence (AI) tracks when you are on LinkedIn and what you are doing. Company recruiters can actually "see" which candidates have taken an interest in their company — not only creating "Job Alerts," but also by who is following their company, what content they are viewing and sharing, and the number of connections they have within the company. Engage, engage, engage.
Make it easy for recruiters on LinkedIn to contact you.
It is against LinkedIn's Terms of Service (TOS) to include contact information in your Headline. However, you can include your preferred contact information in your Summary. (Recommended: Include it at the end of the Summary.)
Remember, people who aren't connected to you can't email you, so including your contact information in the Summary can help your job search by giving them a way to reach you outside of LinkedIn. If you are already connected with someone as a 1st-degree connection, they can view the primary email address associated with your account.
Be active and make LinkedIn activity a part of your daily or weekly routine.
What you do while you're on LinkedIn is important. Not only does it play a role in LinkedIn's AI which impacts the search algorithm, your activity on LinkedIn makes you more visible to all your connections, including any recruiters you are connected with
The content feed on LinkedIn gets 9 billion impressions per week, so this is a huge opportunity for engagement. However, only 1% of LinkedIn's users share posts at least once a week. Only 0.2% of LinkedIn users have published an article using LinkedIn Publishing. Remember, posts with photos increase the comment rate by 98%.
It is wise to make engaging on LinkedIn part of your daily routine and habits. Log in regularly and share industry or profession-related content in your status updates. Publishing articles on LinkedIn is an excellent way to establish or reinforce your expertise and credibility in a particular field or industry and these will be visible to recruiters on LinkedIn. Also, try to engage regularly on the content others post, liking and commenting.
Originally published on this blog on May 14, 2014, this article has been updated and republished to reflect current Linkedin tips for 2021 and beyond.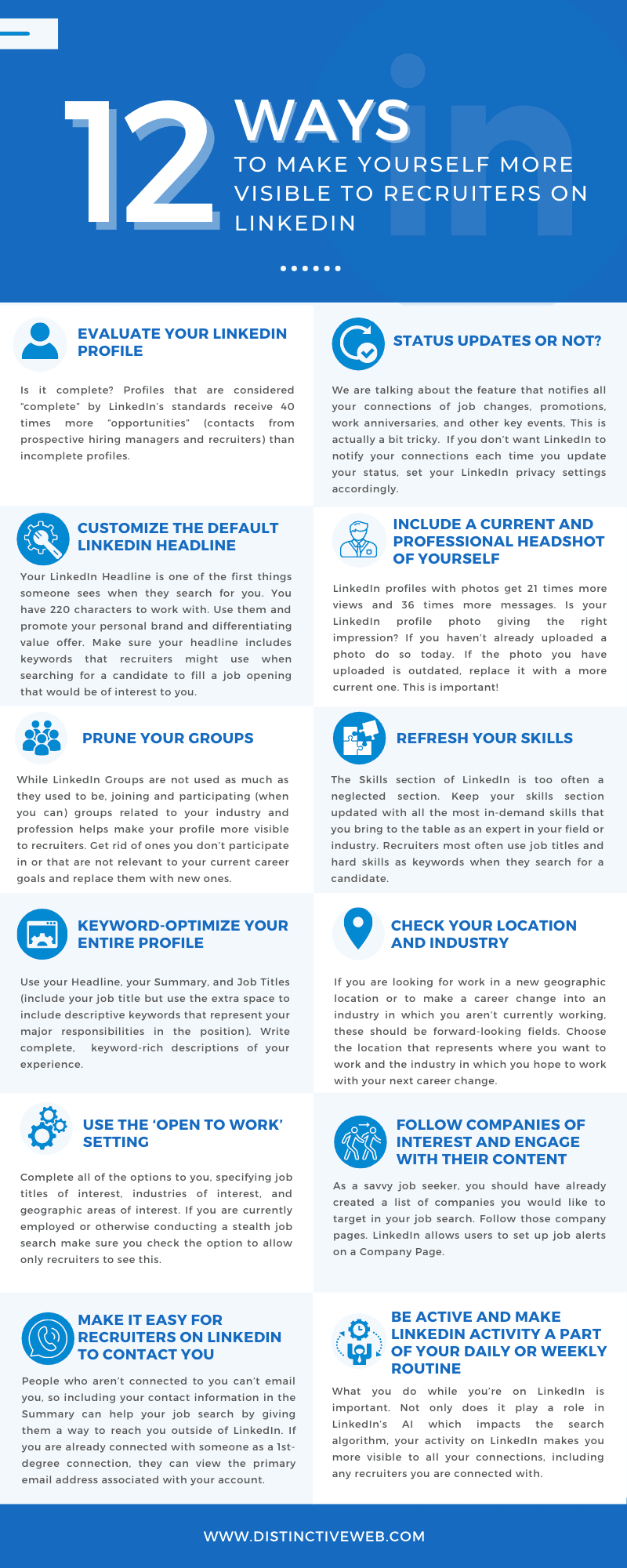 Share this Image On Your Site